Platteville Public Library Bookmark Contest
Celebrate the library by designing our summer library program bookmark.
Winning bookmarks will be professionally printed and handed out at the library as our official summer library program bookmark.
Entry forms can be downloaded as a pdf or picked up at the library.
Divisions
Winners will be chosen from each of these categories:
Birth-kindergarten
1st-6th grade
7th-12th grade
Adult (ages 19+)
Theme
The theme for this year's bookmark is Oceans of Possibilities.
Guidelines
You may submit multiple entries.
Your artwork should be created by you and only you – we can't print trademarked characters.
Your bookmark design can be vertical or horizontal.
The winning bookmarks will be scanned and printed. You may use any materials in your design, but your design should be flat so that we can scan it. Intense colors will print better than pale colors.
Judging criteria
Entries will be judged based on design, originality, and reproducibility.
Entries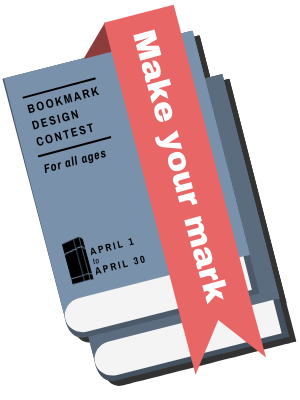 Entry forms can be downloaded as a pdf or picked up at the library.
Submit your entries to the Platteville Public Library, 225 W Main St, Platteville WI. Entries will be accepted starting on April 1, 2022.
All entries become the property of Platteville Public Library and may be reproduced for public distribution, displayed in the library, and posted to the library's website. Entries cannot be returned.
Entry deadline is 8:00 pm on Saturday, April 30.
Past winners
2021 Make Your Mark winners
2020 Make Your Mark – cancelled
2019 Make Your Mark winners
2018 Make Your Mark winners
2017 Make Your Mark winners
2016 Make Your Mark winners