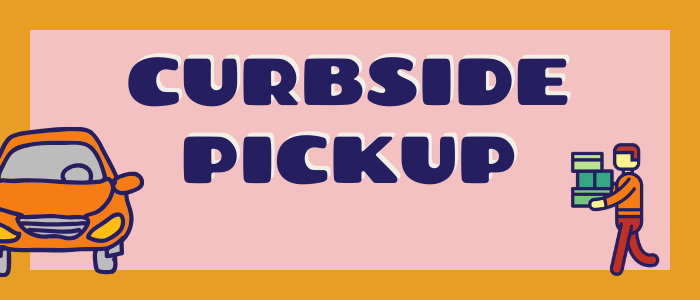 Curbside pickup
If you or any members of your household are experiencing a fever, cough, or any COVID-19 symptoms, do not use curbside pickup.
We are offering curbside pickup for Platteville Public Library patrons beginning Friday, April 24.
We are currently offering curbside pickup Monday through Friday from noon – 6:00 pm.
How curbside pickup works
Request Platteville Public Library items through our catalog at plattevillepubliclibrary.org/catalog
Library staff will find your items and get them ready for pickup. In order to minimize the amount of contact we have with your requests, we are only looking for requested items once a day.
Be on the lookout for an email, text, or call from Library staff letting you know that your holds are ready.
Stop by the library during our curbside hours: Monday – Friday, noon – 6 pm.
The pickup location is in the parking lot behind the library, near the gray staff door.
When you get to the library, give us a call to let us know you're here.
We'll bring your items out to the pickup table. Your library items will be checked out, bagged, and have a receipt attached.
Please wait until library staff have re-entered the library to pick up your materials.
Enjoy your library materials!
Please note: we'll hold on to your requested items for one week after we let you know they are ready for you. Because we only have access to Platteville materials at this time, if you have not picked up your requested items after a week we will check your items back in so that other patrons may use them.
Requesting items
You can request Platteville Public Library items through our catalog at plattevillepubliclibrary.org/catalog.
You will only be able to request items from the Platteville Public Library. Our van delivery service is not running at this time.
Get help requesting items
Don't know how to place holds? Check out our instructions.
Don't know the PIN for your account? It's most likely set to the last four digits of your phone number.
Not able to place your own holds? Call us at 608-348-7441 x 2 and we can place holds for you. We're available Monday – Friday from 10 am – 6 pm.
Surprise me!
Not sure what to put on hold? Sign up for a "surprise hold!" Fill out our form here and tell us what you're interested in. Our expert library staff will select up to three books or three movies for you and place holds on your behalf.
Updating your phone number
Wireless printing
You can now send a file to our printer and arrange to pick it up using our curbside pickup. Here are the steps:
Use our wireless printing instructions to send your files to the library printer.
You'll get a notification that your print job has been successfully sent
Using email? You'll get an email from no-reply@printspots.com
Using the app? You'll get a push notification on your phone
Using the web portal? You'll see "Your request has been processed" on your screen.
Call the library at 608-348-7441 ext 2 to let library staff know you've sent something to the library printer.
Library staff will need to know the email address that you used to send your printout.
After library staff have made sure that your items printed successfully, they'll call you back to arrange a pickup time.
Have questions about sending something to the library printers? Call us at 608-348-7441 ext 2.
Safety considerations
If you or any members of your household are experiencing a fever, cough, or any COVID-19 symptoms, please do not schedule a curbside pickup.
Before your enjoy your library materials, we recommend that you let them quarantine for 72 hours.
We are using CDC recommendations as we process your requests, including handwashing, masks, and social distancing.
We are waiting 72 hours to check in any returned items.
Returning books and library materials
The outside bookdrop is now open for returns 24/7.
The bookdrop is located near the handicap parking spaces in the parking lot behind the library.
If you need to return kits, artwork, or other items that won't fit in the bookdrop, please call the library to drop off items during library hours.
Your returned items will still be on your account for at least 72 hours while we leave them in quarantine before checking them in.
There will be no fines on checked out items. Items will not need to be renewed.
Have a questions?
Call us at 608-348-7441 x 2, Monday – Friday from 10 am – 6 pm or email us at circ@plattevillepubliclibrary.org